Dr Carole Nakhle
In its Statistical Review of World Energy 2016, BP presents 2015 as a year of sluggish energy demand and plentiful supply. Taking a closer look, one country stands out: China. Its changing economy shaped the dynamics of global energy in 2015. This is likely to continue for the foreseeable future and will hinge on how policymakers handle the transition.
A lethargic world economy and sustained improvement in energy efficiency caused growth in global energy consumption to slow to 1 percent in 2015, well below its 10-year average of 1.9 percent, according to the BP report.
The growth rate varies significantly across countries. The Organisation for Economic Co-operation and Development (OECD), a group of 35 rich countries, recorded modest growth of 0.1 percent – and that only thanks to increases in Europe. Consumption in non-OECD countries grew much faster, at 1.6 percent. Middle Eastern states recorded the highest increase (just over 4 percent) with Qatar seeing the second fastest rise (12.7 percent) in the world after Turkmenistan (19.4 percent).
China, the world's largest energy consumer, also saw just 1 percent growth, its slowest pace in 20 years. Despite this, China remains an energy powerhouse, both in terms of consumption and production. Its impact on world energy trends can be seen across the spectrum of fuels, and shapes the course of global carbon emissions. How China's – and therefore the world's – energy consumption develops will largely depend on the evolution of its economy and how its leaders manage the change.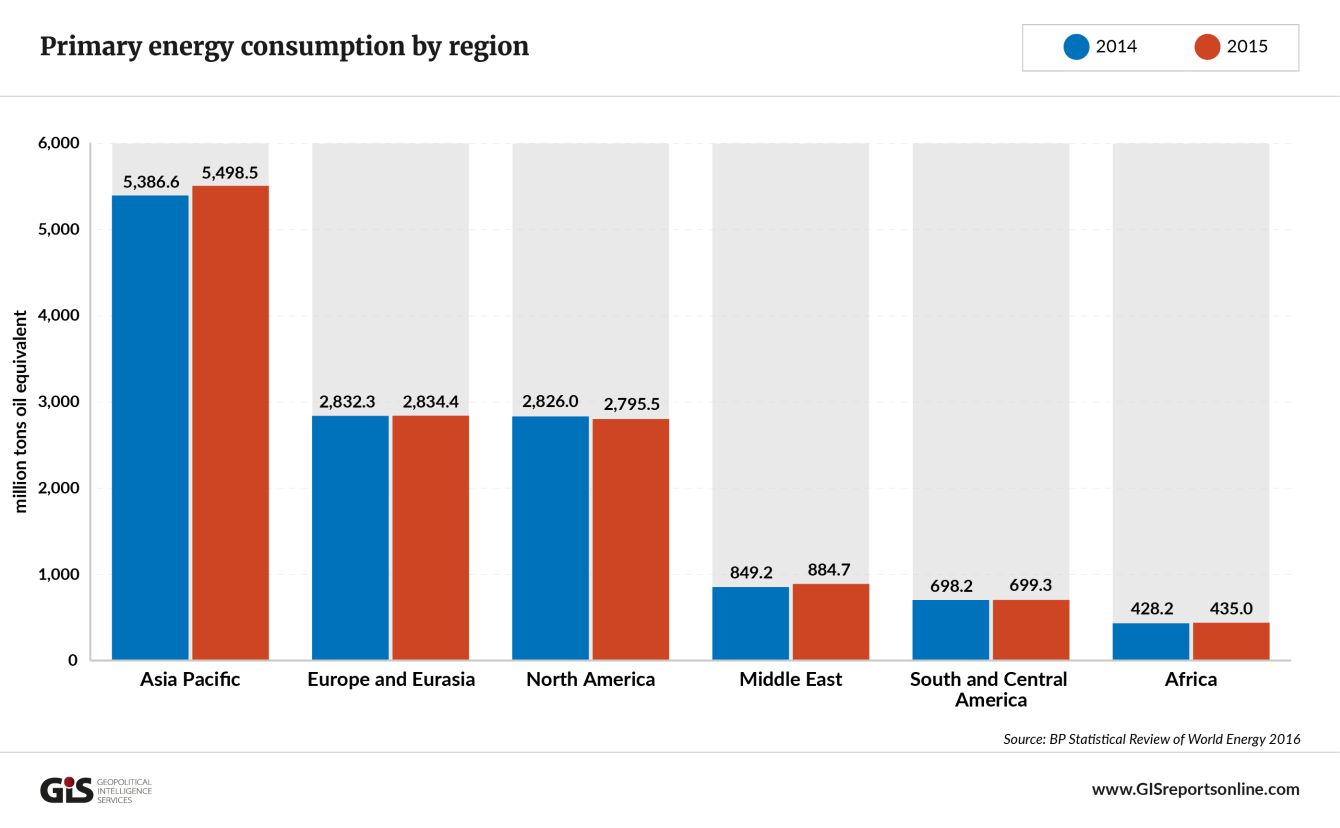 Worldwide, consumption for all fuels except coal increased. This varied from 1 percent for nuclear, to 2 percent for both oil and gas, to 5 percent for renewables. Coal consumption declined by 2 percent. Oil remained the largest contributor to the world's energy mix, with a share of 33 percent. The fuel gained market share for the first time since 1999, largely as a result of low prices. Oil was followed by coal (29 percent) and natural gas (24 percent), bringing the total share of fossil fuels in global energy consumption to a staggering 86 percent. Hydroelectric power's share stood at 7 percent, while nuclear accounted for 4 percent and other renewables 3 percent.
Pumped up
When it comes to oil, the Organization of the Petroleum Exporting Countries (OPEC) still provided more than 41 percent of the world's supply, some 38 million barrels per day (Mb/d), which underlines the important role the organization still plays in the market. However, within OPEC, some interesting dynamics played out. Eight out of 14 OPEC members (Algeria, Gabon, Indonesia, Kuwait, Libya, Nigeria, Qatar and Venezuela) saw production decreases, but these were more than offset by strong increases from some of the organization's largest producers. That includes Iraq, which posted the biggest oil production increase in the world, at 23 percent. Overall, production from OPEC increased by 4.2 percent in 2015.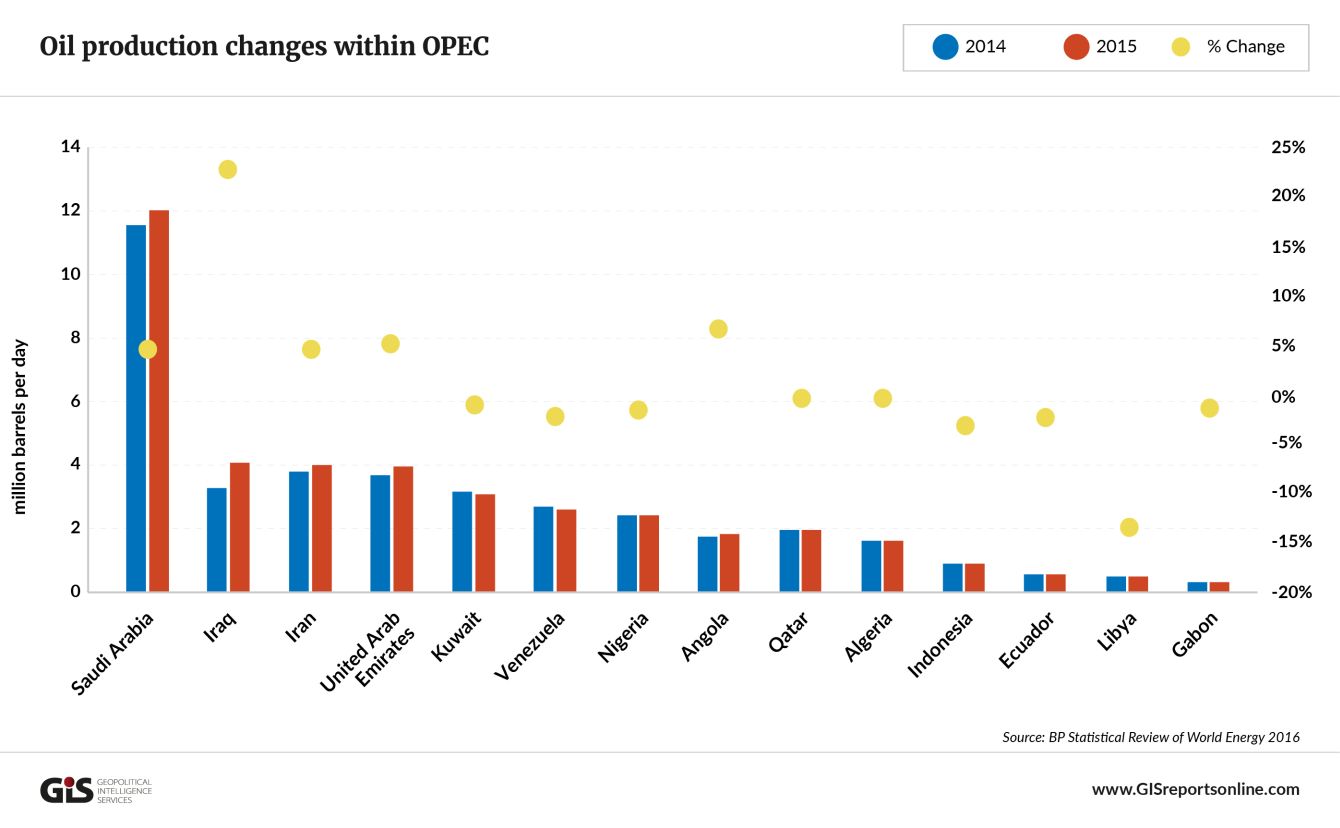 Outside OPEC, one country in particular stood out: the United Kingdom. The UK recorded the second largest production increase in the world (13.4 percent), reversing more than 17 years of decline.
American machine
In terms of production volume, the United States had the largest increase (981,000 b/d), followed by Iraq (745,000 b/d) and Saudi Arabia (509,000 b/d). The U.S. was the largest producer overall, with 12.7 Mb/d, followed by Saudi Arabia (12 Mb/d), Russia (10.9 Mb/d) and Canada (4.4 Mb/d). China, the world's fifth largest oil producer, saw an increase of 1.5 percent, bringing its production to 4.3 Mb/d – more than most OPEC members.
Some countries saw significant production declines. The biggest of these came from Mexico, where production was down 200,000 b/d compared to 2014. Production in Yemen fell by 100,000 b/d, or 68 percent. The net effect on global oil supply, however, was an increase of 3.2 percent.
World oil consumption increased by 1.9 percent, compared to 1.2 percent in 2014. Low prices clearly gave oil a boost. Though China remains behind the U.S. in terms of oil consumed (11.9 Mb/d compared to the U.S.'s 19.3 Mb/d), the Middle Kingdom registered the largest increase by volume – 766,000 b/d, or 40 percent of the global rise. India seems to be following in China's footsteps, especially as it builds its own strategic oil reserves; India had the second largest increase in oil consumption by volume (310,000 b/d) and surpassed Japan as the world's third largest oil consumer.
Gas growth
For natural gas, total production increased by 2.2 percent worldwide, despite significant decreases in some large producers. The largest increases in volume came from the U.S. – 39 billion cubic meters (bcm), followed by Iran (10 bcm), Norway (8 bcm), Qatar (7 bcm) and China (6 bcm). The U.S. (767 bcm) was the largest producer, still ahead of Russia (573 bcm), which witnessed the second largest volumetric decline (6.7 bcm) after the Netherlands (12.7 bcm).
Other major producers included Iran (192 bcm), Qatar (181 bcm), Canada (163 bcm) and China (138 bcm). Because of its civil war, Yemen, which was once an important LNG producer, lost more than 71 percent of its natural gas production. Its 6.7 bcm decline equaled the total drop in Europe and Eurasia (excluding the Middle East) combined.
In terms of demand, China was the third largest gas consumer after the U.S. and Russia. The U.S. saw the largest increase in volume of gas consumed, followed by Iran and China, though in the latter gas growth decelerated compared to previous years. Relative to the U.S., where natural gas accounts for 31 percent of the energy mix, the share of gas in Chinese energy use remains small, at just under 6 percent.
Since gas competes in each of its applications – particularly in the power sector – with other fuels, there is significant potential for consumption growth in China. Any increase will have positive environmental implications for China and the rest of the world, especially if gas replaces coal in power generation, as has been happening in the U.S.
Change in the east
China still relies on coal for 63 percent of its energy, but developments in 2015 brought some hope to the climate change agenda. Although China cranks out more coal than any other country, its production recorded the third largest decrease after the U.S. (the world's second largest producer) and Indonesia. Similarly, despite being the world's largest burner of coal, China saw the second largest decrease in consumption volume after the U.S. The biggest net increase in consumption came from India, the world's second largest consumer. Though this compensated somewhat for the declines elsewhere, the net effect was an overall drop in global coal consumption.
Non-carbon-emitting sources have increased their role in China's energy mix. In 2015, the country accounted for almost the entire global increase (1.3 percent) in nuclear power production, surpassing South Korea to become the fourth largest producer of nuclear power, after the U.S., France and Russia.
China was also the largest producer of hydroelectricity and accounted for almost all of the global net increase. Similarly, it recorded the largest increase in solar power, overtaking Germany and the U.S. to become the world's top generator. It was the second biggest producer of wind energy after the U.S., and the fifth in biofuels, after the U.S., Brazil, Germany and France. It further recorded the third largest increase in biofuels production, by volume, after Brazil and the U.S.
Cutting the carbon
All this has changed China's carbon emissions trends. In 2015, China was the largest carbon dioxide (CO2) emitter in the world, followed by the U.S. However, the substitution from coal to gas in power generation, a result of cheaper gas prices courtesy of the shale revolution, gave the U.S. the world's largest reduction in CO2 emissions. China also saw a decline in CO2 emissions, albeit on a smaller scale. This is nevertheless remarkable, considering it was the first decline recorded since 1998.
The world's largest net increases in CO2 emissions came from India and Indonesia – two major coal producers – and surprisingly, Saudi Arabia, which hardly uses any coal. Globally, carbon emissions increased by only 0.1 percent. Aside from the financial crisis year of 2009, that figure represented the lowest emissions growth rate since 1992.
The China effect
China's footprints are visible in every aspect of global energy. The changes in 2015 were hugely affected by the evolution of its economy. BP argues that, "The days of double-digit Chinese growth, led by energy-hungry industrial production, are behind us." If so, China's pressure on global energy supplies, its addiction to coal and its carbon emissions should all be declining from now on.
Typically, economies follow a cycle in which they are first based on agriculture, then industrialize and finally become service-based. China's leaders say the country is now transitioning between the last two phases, and is undergoing a "rebalancing." Typically, this would mean we can expect Chinese energy consumption to decelerate, since economies in the third phase usually become less energy intensive.
These changes are slowing China's economic growth and therefore its energy consumption – coal has become the most obvious victim of this process. China has been criticized for its thirst for energy and its reluctance to cut carbon emissions. The changes in its economy have brought good news for the rest of the world in the form of reduced pressure on energy supplies. It has also fostered China's new, accommodating position on climate change, which became visible at the COP21 meeting in Paris, where it made a drastic U-turn from its previous stance.
Still, the ending is not yet a happy one. China's position is not set in stone; it will change with the state of its economy and the nerves of its political leaders. Historically, economic "rebalancing" has always translated into much slower growth. No one knows how long it will take, nor is its success guaranteed. Its failure could result in anything from drastic volatility to stagnation.
The global consequences of a "hard landing" for the Chinese economy have already been the subject of much anxiety, as its growth started to decelerate earlier this year. If Chinese policymakers sense a significant threat to their economy, they have shown in the past that they will not hesitate to revert to fiscal stimulus. This could translate into new factories being built and more infrastructure projects commissioned – and old king coal will regain his throne.
---
Global energy data
Other than the financial crisis year of 2009, the growth in global energy consumption in 2015 was the lowest since 1998
The shale revolution has increased technically recoverable oil and gas resources by 15%
Global oil demand grew strongly in 2015, nearly twice its 10-year average. This was driven by unusually strong increases from net oil importers: the U.S., EU, China and India
China was the single largest importer of Middle East oil (consuming 20% from the region, compared to 8% for the U.S.)
Coal's share of global energy consumption fell to 29.2%, the lowest since 2005
Renewable energy used in power generation continued to increase in 2015, reaching 2.8% globally, up from 0.8% a decade ago
Wind energy was the biggest source of renewable energy for power generation, with Germany recording the largest growth by volume
Solar power production has increased more than 60-fold over the past 10 years, doubling capacity about every 20 months
The article was first published on Geopolitical Information Services