Dr Gavin Graham
Onlookers might have been surprised a few weeks ago to see the Ambassadors of China and Turkmenistan standing side by side in the rather inauspicious surroundings of the Tehran railway station to witness the arrival of a freight train containing 'small commodities'.
This was however no ordinary freight train, but the first such train to travel the 10,399 km from the Chinese market town of Yiwu to Tehran, taking just 14 days and shaving some 30 days off the conventional sea route, according to Iran's ISNA News Agency.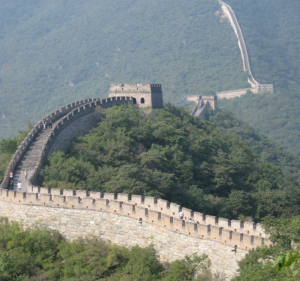 As such it was recognized by the official media as being symbolic of the commitment of both parties to President Xi Jinping's signature 'One Belt, One Road' strategy – with the ultimate aim, according to Mohsen Pourseyyed Aqayi, the President of Iran Railways, of connecting the port of Shanghai to Europe through Iran.
Coming shortly in the wake of Xi's first visit to the region from 19th to 23rd January, these developments may mark a change in China's traditional 'balanced' role in Middle East relations.
One Belt, One Road
China's 'One Belt, One Road' initiative comprises two separate yet interwoven trade routes: the Silk Road Economic Belt and the 21st Century Maritime Silk Road (according to the official Chinese policy document). It was introduced in 2013 by President Xi Jinping, during a visit to Kazakhstan, building on the historic Silk Roads of the Han Dynasty, and extending an economic belt (through improved road, rail and air transport networks) from the unstable region of Western China through Central Asia and the Middle East towards Europe.
Energy security is a key aspect. So far it has worked well in Kazakhstan (according to the EIA, some 16 percent of the country's 1.7 million barrels a day oil – Mb/d – production heads to China via pipeline) and in Turkmenistan (25.5 billion cubic metres or some 37 percent of Turkmen gas is also exported directly by secure pipeline to China, according to the BP Statistical Review of World Energy 2015) – but it has yet to succeed in the Middle East.
China and the Middle East
Oil dominates the China/Middle East relationship. According to the BP Energy Outlook, China will account for some 25 percent of global energy consumption by 2035. The country has seen oil imports double to some 6.6Mb/d in the last decade, over 50 percent of which (3.5Mb/d) comes from the Middle East.
In its Arab Policy paper, published on 13th Jan 2016 just ahead of President Xi's visit to the region, China stresses the importance of energy in its ongoing relations with the region. Since the foundation of the People's Republic of China (PRC) in 1956, the country has established diplomatic relations with all 22 Arab countries and has set up a number of forums for strategic dialogue. During this time Arab countries have become China's biggest supplier of crude oil – and seventh biggest trading partner.
The emergence of US tight oil has reshaped the dynamics of world oil markets. By 2013 China had overtaken the US as a buyer of Persian Gulf, Middle East and OPEC oil, leading to the oft repeated question: "What is the US Fifth fleet doing in Bahrain protecting China's oil"?
China's leaders view high dependence on imported oil as a weakness, especially where that oil comes from a potentially unstable region like the Gulf. As a result China is looking to expand its commercial and diplomatic footprint in the region but, according to most analysts, it does not have the military power or the inclination to replace the US or take on a deeper security role. Instead it is looking for other ways of securing its energy supplies.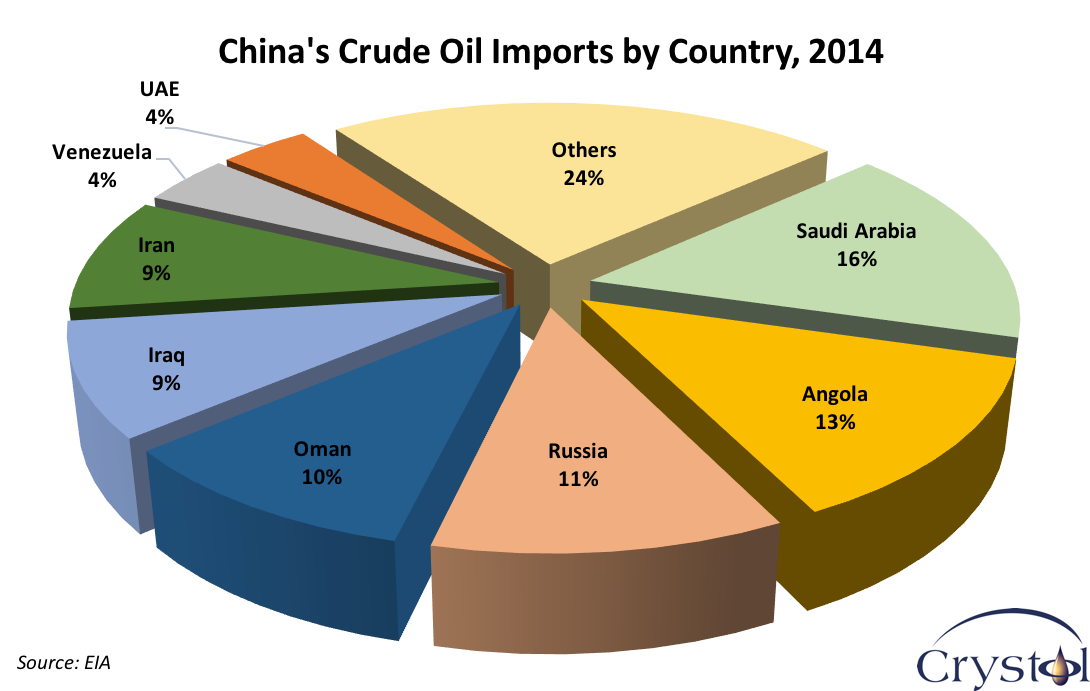 Preparing for change
The re-emergence of Iran offers an opportunity for new partnerships and new relationships. Even during the darkest days of US, UN and EU sanctions, China continued to provide support to Iran in the form of technology transfer and investment and, by special agreement with the US, even continued to import Iranian oil. China became Iran's biggest trading partner and top source of capital and investment while sanctions kept out western rivals.
The Iranian Foreign Minister, Mohamed Zarif, visiting Beijing in September 2015, shortly after the successful conclusion of the nuclear negotiations, commended China for its support during sanctions and intimated that, in return for cooperation on foreign policy in Yemen, Syria and 'the Middle East', Chinese companies would be in pole position to secure future opportunities in Iran.
China had been raising its import of Iranian goods since 2014 and received a delegation of Iranian oil officials in April 2015, before the nuclear deal was finalized. By the time it was signed buy accutane australia Iran was already China's third largest oil supplier, with both Sinopec and CNPC active in upstream field development, accounting for around 12 percent of China's annual consumption, according to The Diplomat.
President Xi steps in
Writing under the above headline, the Arab Digest noted that President Xi's visit came at a time of high tension in the region as a result of the conflicts in Syria and Yemen, the execution of a Shia cleric in Saudi Arabia and the resultant embassy closures in Tehran and Riyadh. With energy at the heart of China's Middle East policy and Saudi Arabia and Iran two of the country's largest suppliers, the visit was clearly choreographed with intent to avoid increasing these tensions.
Starting in Riyadh, President Xi – the first Chinese Head of State to visit Saudi Arabia since 2009 – made all the right overtures, meeting with King Salman, announcing the upgrading of relations to a 'Comprehensive Strategic Partnership' and overseeing the opening of a refinery in Yanbu in which Sinopec will take a 37.5 percent interest in a joint venture planning to invest some US $10 billion.
Travelling next to Cairo, President Xi gave a speech to the Arab League in which he pledged US $55 billion of financial support to the region and committed to closing a comprehensive Free Trade Agreement with the Gulf Co-operation Council by the end of 2016.
Finally arriving in Tehran on 22nd January, as the first Chinese President to visit the country since Jiang Zemin in 2002 and just six days after implementation of the nuclear agreement, Xi's visit received intense media coverage. China, it was argued, aimed to remind Iran that it was a friend during the hard times – and make a sign to the rest of the world that China was leading the pack in the race to profit from the Iran deal.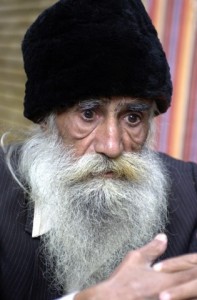 Whilst in Tehran President Xi met with Supreme Leader Ali Khamenei, Prime Minister Rouhani and Speaker of Parliament Larijani. During the visit Xi and Rouhani signed an MOU on continued co-operation on the 'One Belt, One Road' initiative – with focus on energy, interconnectivity, industrial capacity and finance. Xi also upgraded relations to a 'Comprehensive Strategic Partnership' (as with Saudi Arabia), signed some 17 agreements aimed at expanding diplomatic and economic cooperation and a comprehensive 25-year pact on co-operation – setting up China as an alternative to the west for long-term cooperation.
In a joint announcement the two countries committed to increasing mutual trade (tenfold) to US $600 billion over the next ten years and announced an annual meeting of their Foreign Ministers. President Xi also offered to support Iran's entry into the Shanghai Co-operation Organisation.
All media reports from China and the region were positive and saw the visit as a success, although impartial observers (CNBC, The Diplomat, Bloomberg) declared it a win for Iran. Overall it was seen as demonstrating China's increased desire to have a deeper involvement in the region and clearly had a positive impact on relations with Saudi Arabia, Egypt and Iran, while avoiding increasing Saudi/Iran tensions.
A subtle shift in 'balance'
It seems clear that, if the aim of President Xi's visit was to demonstrate China's commitment to the Middle East region then, by pretty much any measure, his visit was a success.
While China continues to project a strategy of balanced engagement across the region, statements made during Xi's visit would seem to indicate that relations with Iran are moving forward at a faster pace than those with its Arab neighbours. A joint statement issued by China and Iran noted that "The two sides regard each other as important strategic partners", and IRNA quoted President Xi as saying "Iran is China's major partner in the Middle East".
For China, ultimately Iran may provide a solution to its concerns over energy security, with the development of a land bridge to Eurasia potentially providing the gateway for Middle Eastern oil to China and Central Asian gas to Europe via secure pipelines. If such were to become a reality then Iran might well become the greatest beneficiary of the 'One Belt, One Road' strategy.
The arrival of a freight train from eastern China's Zhejiang Province may just be an early indication of things to come.
While China looks to maintain a balance in its relations between Arab states and Iran, some relations may ultimately be more balanced than others.
The article was first published on 10 March 2016