The European Union (EU) and the Arab world have been sharing a destiny of geographical proximity, economic and political cooperation on many fronts throughout the years. The two major worlds have a long history of cross-fertilization and human and cultural exchanges that had shaped their heritage and shared history and values. However, a legacy of conflicts and misunderstandings has in many instances affected both worlds' ability to leverage this natural complementarity in order to establish strategic partnerships and create a global EU-Arab zone of stability and prosperity.
Dr Carole Nakhle, CEO of Crystol Energy, spoke on the EU-Arab cooperation in the energy sector at the 2nd EU-Arab World Summit that took place on 9-10 November in Athens, Greece.
The EU-Arab cooperation will be instrumental in strengthening Europe's global political and economic standing while helping the Arab region to overcome and resolve its challenges, and lay the foundation for industry and knowledge-driven economic development that would eventually supersede the region's chronic dependency on oil and gas.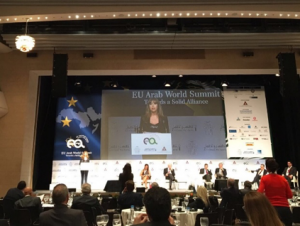 Other distinguished speakers included:
HE Alexis Tsipras – Prime Minister of Greece
HE Dr Joseph Muscat – Prime Minister of Malta
HE Nikos Anastasiades – President, Republic of Cyprus
HE Saad Hariri – President of the Council of Ministers in Lebanon