Dr Carole Nakhle, CEO of Crystol Energy, spoke at the 23rd edition of the "Arab Economic Forum", which was held in Beirut, under the patronage of the Lebanese President of the Council of Ministers, H.E. Tammam Salam. The Forum was organized by Al-Iktissad Wal-Aamal Group in collaboration with the Central bank of Lebanon, the Association of Banks in Lebanon and the International Finance Corporation (IFC) a member of the World Bank Group.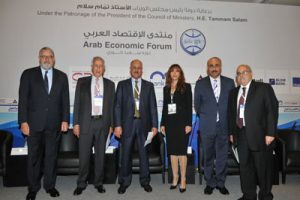 Dr Nakhle spoke on "The Future of Arab Economies: Between Declining Oil Prices and Political Turmoil" and addressed issues such as:
The fundamental economic challenges facing the Arab countries.
The implications of lower oil prices for growth and the flow of inter-Arab investment and development aid.
The required reforms to boost growth and employment opportunities, and attract investment
The Forum attracted a large number of senior officials, heads of companies, banks, investment groups, and economists and experts from Arab and foreign countries.
For further information, check here.