Webinar: How Changing Economics and Technology will Impact the Energy Industry
Energy economics are changing. With uncertainty, even volatility surrounding future energy demand, pricing, a circular plastics economy and other market forces, companies need to be prepared to remain profitable. Where does digitalization and AI technology fit into the equation? What are industry leaders doing today to gain a competitive edge?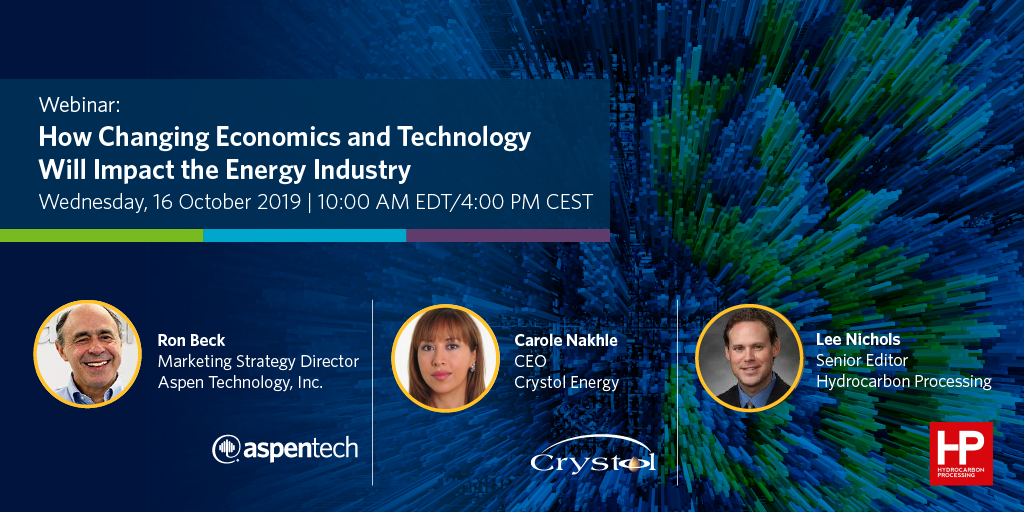 Dr Carole Nakhle, CEO of Crystol Energy, along Lee Nichols, Senior Editor, Hydrocarbon Processing and Ron Beck, Energy Industry Director, AspenTech will be discussing the impact of changing economics and technology on the energy industry on Wednesday, 16 October 2019 at 10:00 a.m. EDT / 4:00 p.m. CEST.
Topics to be addressed include:
What's required to realistically achieve sustainability?
How will the circular economy impact the downstream market?
How will digitalization shape operations in the refining/petrochemicals industry?
Who should attend: Executives, VPs, Directors and Key Managers of Refining and Petrochemical companies
To register for the webinar, click here.
Related Analysis
"Technological Innovation Creates New Opportunities in Oil&Gas", Dr Carole Nakhle, Nov 2018
"Digitalisation in Oil and Gas is Changing the People Equation", Dr Carole Nakhle, Nov 2018
"New Technological Frontiers in the Oil and Gas Industry", Dr Carole Nakhle, Oct 2018
Related Comments
"The Impact of Digitalisation on Employment in the Oil and Gas Industry", Access for Women in Energy, Oct 2018