Dr Carole Nakhle
The United Arab Emirates (UAE) stands out among its peers in the developing world and especially the Middle East. This small, young, wealthy petrostate is a tale of two seemingly contradictory stories: it is one of the world's largest oil producers and it is aiming to be the Arab champion in the development of green energy. Whether it can succeed is an open question, but on balance, the oil sector is likely to retain the upper hand.
The UAE is hydrocarbon-rich. It has the world's eighth-largest proven oil reserves (after Venezuela, Saudi Arabia, Canada, Iraq, Iran, Kuwait and Russia) and seventh-largest proven gas reserves (after Iran, Russia, Qatar, Turkmenistan, the United States and Saudi Arabia). Most of these reserves (94 percent) are found in its largest and wealthiest emirate, Abu Dhabi, which covers more than three-quarters of the country's area.
Black gold
Oil was first discovered in what is now the UAE in 1958, before the country was founded, and has since shaped its history. In 1971, the six emirates of Abu Dhabi, Ajman, Fujairah, Dubai, Sharjah and Umm al-Quwain formed the federation of the UAE. One year later, they were joined by a seventh emirate, Ras al-Khaimah.
Today the UAE is a major oil exporter with the seventh largest production in the world (after the U.S., Saudi Arabia, Russia, Iran, Iraq and Canada). At just under 3 million barrels per day (Mb/d), it is OPEC's fourth largest crude-oil producer after Saudi Arabia, Iraq and Iran.
Gas production, however, has not achieved similar levels despite the potential and has not kept up with rapidly growing local demand. The UAE has been a net importer of natural gas since 2008. Qatar, with which the UAE recently cut diplomatic ties, provided all of the UAE's natural gas imports in 2016.
Some of the locally extracted gas is reinjected into oil fields to improve recovery efficiency, while its high sulfur content requires more sophisticated, expensive technologies for wider production and use as a fuel. On the other hand, demand for gas has grown rapidly in the UAE, along with demand for electricity, most of which is produced by natural gas-fired generators. Electricity demand has increased at a 4 percent annual rate over the past six years, and that pace is expected to quicken to 5 percent each year through 2020. This compares with a global average of 2.2 percent and a non-OECD average of 3.1 percent, according to Abu Dhabi's Environment Agency.
Subsidies are partly to blame, though the government is pursuing price reforms. The other major culprit is water desalination – about 95 percent of the country's potable water comes from inefficient plants built in the 1970s and 1980s, leading to wasteful gas consumption.
Green push
Meanwhile, the UAE has shown serious dedication to promoting green energy. It was the first country in the Middle East to ratify the Paris Climate Agreement – it committed to increasing the share of clean energy to an impressive 24 percent of its total energy mix by 2021, from a tiny share of less than 0.1 percent today.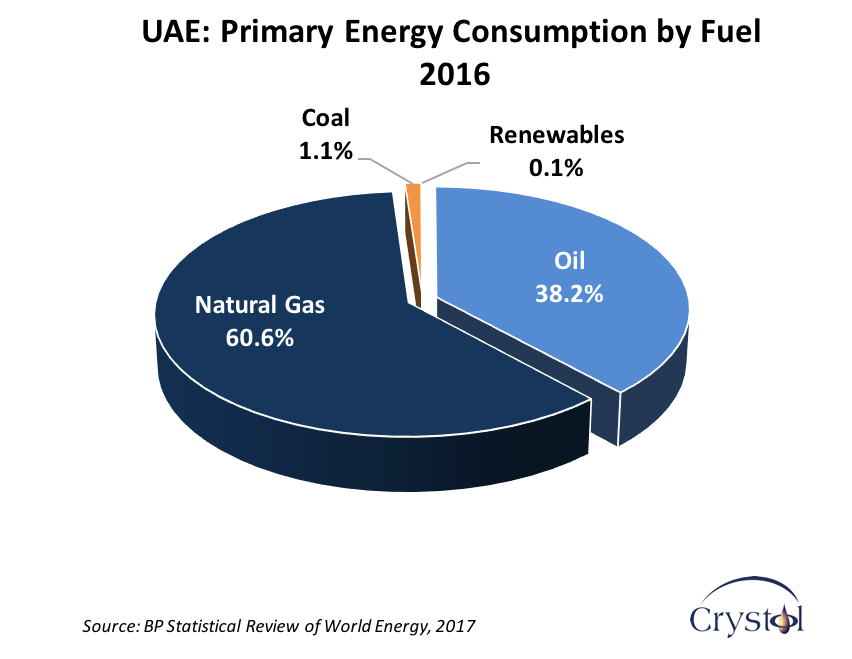 In its Energy Plan 2050, announced in January 2017, the UAE pledged to generate 50 percent of its electricity from clean energy by 2050. Some 44 percent is due to come from solar energy and 6 percent from nuclear plants. The other 50 percent will come from gas (38 percent) and clean coal (12 percent). Today, 100 percent of its electricity is generated using gas. It is argued that such a mix will allow the UAE to reduce carbon emissions by 70 percent – another ambitious target, since the country is one of the top carbon emitters in the world per capita.
The UAE is ahead of its Arab peers in the Middle East and North Africa in constructing its first nuclear power plant, making it the first non-nuclear country in 27 years to build a reactor. The Barakah project will have a total installed capacity of 5.6 gigawatts; the first unit is expected to start generating electricity in 2017 or 2018, and the final unit is scheduled to begin operation in 2020.
There is no shortage of other remarkable clean energy projects in the UAE. Masdar City is planned to be the world's most sustainable municipality. It will use small amounts of water and energy, be energy efficient, use recycled materials and have densely populated buildings. By 2030, it will accommodate over 40,000 residences.
The Sweihan Solar Photovoltaic Plant, Abu Dhabi's largest solar power plant, due to become operational in 2019, will have a capacity of 1.18 gigawatts, enough to power about 200,000 homes. The project made global headlines when a consortium of Japan's Marubeni and China's JinkoSolar submitted the lowest bid to provide electricity from the plant at less than 2.42 cents per kilowatt-hour (kWh), making it one of the cheapest solar projects in the world. That number should be taken with a grain of salt, however. Once intermittency and storage are taken into account, the real cost will be closer to 8 cents per kWh.
Petrostate
The UAE does not only want to diversify its energy mix, it also wants to reduce its reliance on oil revenue. The country has fared better than its neighbors in managing its oil wealth, having invested a significant share in the Abu Dhabi Investment Authority (ADIA), the world's second largest petroleum sovereign wealth fund (SWF), after Norway's Government Pension Fund Global. According to the SWF Institute, the fund holds about $792 billion – more than twice the size of the UAE's entire economy, which is already the second largest in the Arab world after Saudi Arabia.
Compared to other oil-rich Arab countries, the UAE's economy is more diversified. Still, the oil sector continues to account for more than a third of real economic output (compared to 60 percent in Kuwait), nearly half of export earnings (in Saudi Arabia it is more than 80 percent) and around 80 percent of total budget revenues, according to the Central Bank of the UAE.
Among its other bold plans, the government wants to reduce the oil sector's economic contribution to 20 percent of gross domestic product (GDP) by 2021. Doing so would limit the economy's exposure to the vagaries of the oil market and oil-price volatility. Currently, the economy's performance is closely linked to oil prices. The 2014 price drop translated into slower economic growth (real GDP growth decreased from 4.7 percent in 2013 to 2.7 percent in 2016). However, increases in oil output – by 7 percent and 4 percent in 2015 and 2016, respectively – helped to alleviate the impact of lower prices.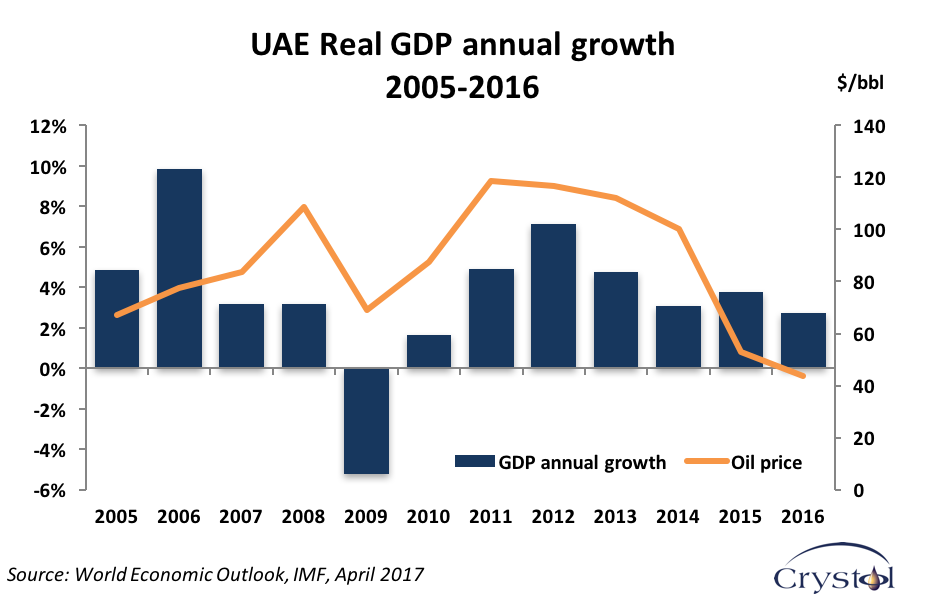 Promises and reality
The UAE is trying to achieve many competing goals at the same time: diversifying its economy away from oil, safeguarding its share in the global oil market amid intensifying competition between producers, hugely expanding its use of clean energy, satisfying its rapidly growing energy demand, particularly for gas, and significantly reducing carbon emissions.
The targets set to meet those objectives are bold and require substantial investment. Whether the UAE will be able to achieve them in time remains questionable. The age of oil could last much longer than expected. After all, it is oil money that is allowing the UAE to pursue an aggressive alternative energy strategy. The Barakah nuclear power plant, for instance, has an estimated price tag of more than $20 billion. Similarly, to achieve its 2050 renewable energy target, the UAE will need to invest more than $163 billion – hardly pocket change.
It is therefore not surprising to see the UAE pursuing an assertive investment strategy to boost future oil production. The OPEC deal in December 2016 – and its extension in May 2017 – has temporarily curtailed that momentum, since the UAE committed to cut output by 139,000 barrels per day. The Abu Dhabi National Oil Company, however, intends to increase its capacity to 3.5 Mb/d by 2018.
The 40-year, $2.2 billion deal signed with BP in December 2016 supports the view that neither the UAE nor the international oil companies see an end to the oil business soon. BP traded a 2 percent stake in its business for a 10 percent interest in one of the last big oil concessions available in the Middle East. A year earlier, Total paid an upfront fee of about $2 billion to secure a 10 percent stake – not pocket change either.
---
The United Arab Emirates
The United Arab Emirates has an area of about 83,600 square kilometers, including some 200 islands. Abu Dhabi accounts for 87% of the UAE's total area. The smallest emirate, Ajman, is only 259 kilometers square
Abu Dhabi holds 94% of the UAE's oil reserves. Next is Dubai with 4%, followed by Sharjah (1.6%). The rest is in Ras al-Khaimah
The UAE's proven oil reserves were 97.8 billion barrels as of 2015. Abu Dhabi holds 92.2 billion barrels, followed by Dubai with 4 billion barrels, Sharjah with 1.5 billion barrels and Ras al-Khaimah with 500 million barrels
The UAE has the world's 6th- and 11th-largest technically recoverable shale gas and tight oil resources, respectively (EIA)
98% of the UAE's oil exports go to Asia, mainly Japan
The UAE topped all Arab countries in the 2017 Global Innovation Index, ranking 35th
The UAE is home to the International Renewable Energy Agency (IRENA)
The article was first published on Geopolitical Intelligence Services