Dr Carole Nakhle, Director of Crystol Energy, spoke on oil and the new economic order at the "An Unravelling Global Order: Prospects for 2017" conference organised by the Carnegie Middle East Center that took place on December 8, 2016 at Phoenicia Hotel, Minet Al Hosn, Beirut.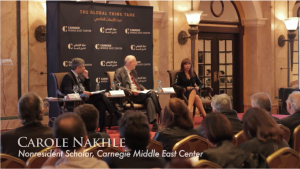 As 2016 draws to a close, prospects for the year ahead seem uncertain. The Arab world remains mired in both political and economic conflict and instability. The election of Donald Trump in the United States and the rising wave of populism across the Europe—where many elections are scheduled in 2017—are sure to impact Western policies toward the region.
The event provided an outlook into 2017 and focused on what Carnegie scholars believe will be the most important and pressing issues facing the Middle East and North Africa region.