Since Russia's full-scale invasion of Ukraine in February 2022, the European Union has worked hard to find alternatives to Russian energy. For decades and until the third quarter of 2022, Russia was the Union's biggest oil supplier. It was the source of more than 25 percent of the EU's hydrocarbon imports and was Germany's largest overall energy supplier. Diversification has been no easy task given the scale of the dependency, but impressively, Russia's share has been reduced to 10 percent. 
The United States' share has increased at Russia's expense. Suppliers such as Kazakhstan, which account for 8 percent of the EU's oil imports, have maintained their existing share but are eying a greater presence in the European market. Kazakhstan's oil imports to the EU increased by nearly 900 percent between 2000 and 2021, and in recent years, it has become the third-largest supplier of oil to the European Union after Russia and Norway. 
In March 2023, Kazakhstan sent its first oil shipment to Germany via Russia, Belarus and Poland to the PCK refinery in Schwedt through the Druzhba pipeline system. The PCK refinery, which provides 90 percent of Berlin's fuel, used to rely on Russian oil. Although that oil is exempt from the EU sanctions announced last year (which target seaborne oil), Germany went one step further and decided to halt all oil imports from Russia preemptively. Kazakh oil subsequently proved one of the most practical and convenient alternatives. 
This rapid reorientation of Germany's energy portfolio has highlighted Kazakhstan's role in Europe's quest for greater energy security while underscoring its central paradox: Kazakhstan relies on its historical ties with Russia and Russian infrastructure to export its oil. 
Since it gained independence in 1991 from the former Soviet Union, Kazakhstan has followed a multivector foreign policy introduced by former President Nursultan Nazarbayev (1991-2019), who also opened the country to Western investment in oil and other raw materials. Often described as a distinguishing characteristic of Mr. Nazarbayev's governance, multivector diplomacy has allowed Kazakhstan to pursue pragmatic relations with its powerful neighbors Russia and China, as well as other world powers like the EU and the U.S. An intricate balancing act has been essential for the stability of the country and its economy, especially given its geography, demographic realities and economic interests. 
The EU's crude oil imports by country of origin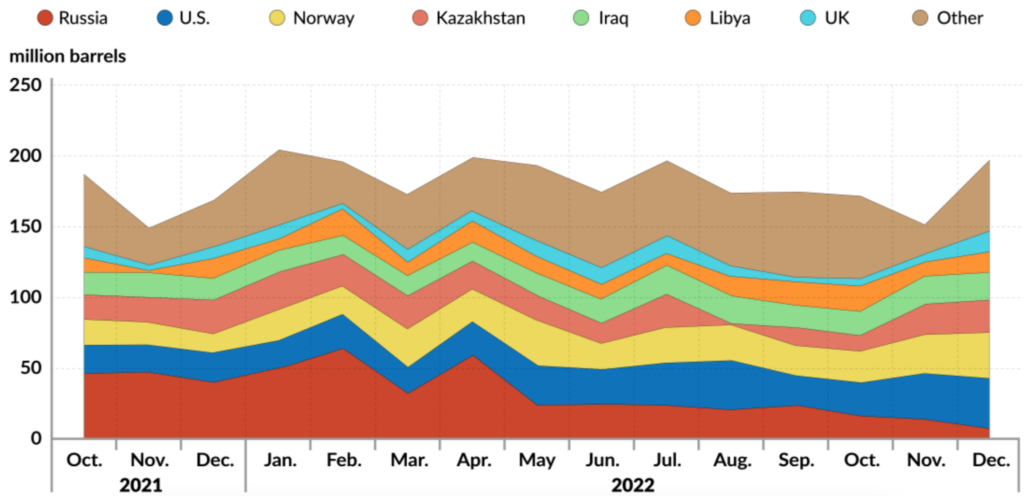 No newcomer in the energy business
Following its independence and openness to international investors since the 1990s, Kazakhstan's oil production increased threefold as new fields such as the Tengiz, Karachaganak and Kashagan were discovered, with the latter  turning out to be one of the 10-largest oilfield finds in the world. These three fields account for about two-thirds of Kazakh crude production today. They are operated by consortia of companies formed by Western stakeholders, including Chevron, ExxonMobil, Shell, Eni and TotalEnergies, alongside Kazakhstan's national oil and gas operator KazMunayGas.
Kazakhstan produces approximately 1.8 million barrels a day (mb/d), equivalent to 2 percent of the world's total oil output. It plans to ramp up its production to 2 mb/d by the end of 2024 and reach 2.4 mb/d by 2030 due to expansion projects at the Kashagan and Tengiz giant fields. Chevron, for example, recently announced its plans to increase its oil production in the country to 1 mb/d (from 700,000 b/d), highlighting the potential of the Caspian region as an alternative to Russian producers and as part of the solution to the energy crisis. Such growth will boost a rise in the country's exports.
Energy companies engaged in Kazakhstan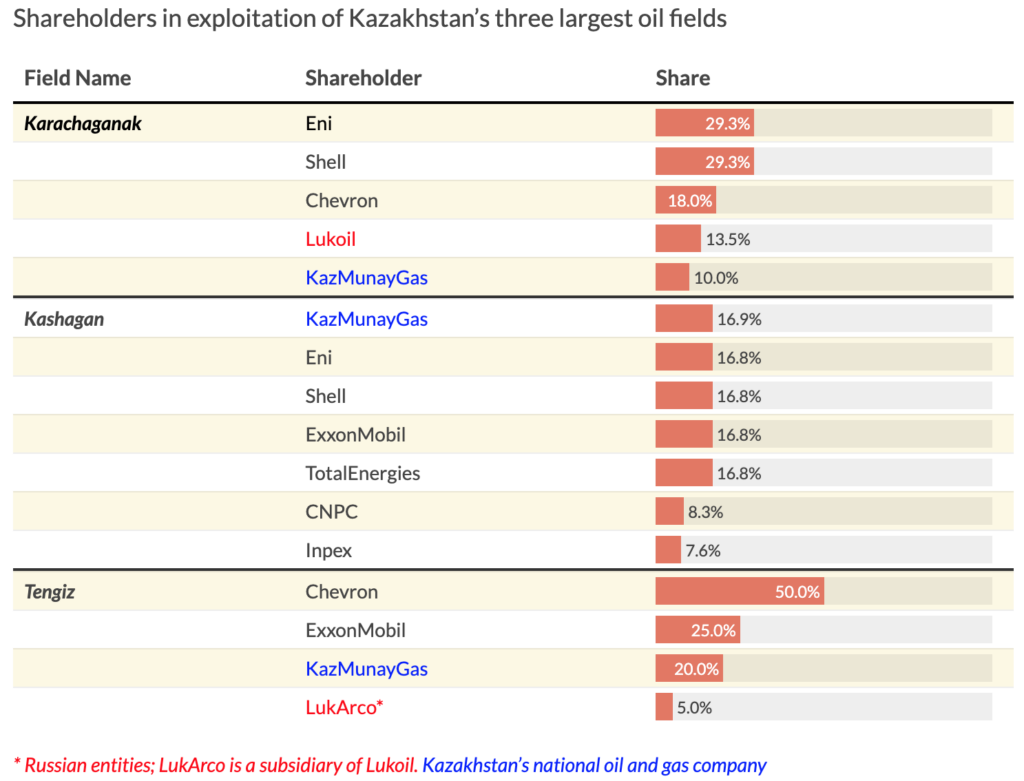 Energy security and on Russian pipeline systems
Kazakhstan is a landlocked country, sharing the world's second-longest land border (7,644 km) with Russia, in addition to its borders with Uzbekistan (2,330 km), China (1,765 km), Kyrgyzstan (1,212 km), and Turkmenistan (413 km). In this respect, it has no direct access to international oil markets. 
Kazakh oil is mainly exported via the CPC (Caspian Pipeline Consortium), a pipeline with a 1.46 mb/d capacity that links the Kazakh fields with the Russian port of Novorossiysk at the Black Sea where two-thirds of its crude is moved to service the European market. The Russian government has the most significant stake in the CPC (24 percent) on top of its shares in other Russian oil companies, Lukoil and Rosneft. Kazakhstan's state-owned KazMunayGas and some of the Western companies, primarily Italian Eni and U.S. Chevron, own the rest. 
Kazakhstan's oil pipelines for westbound exports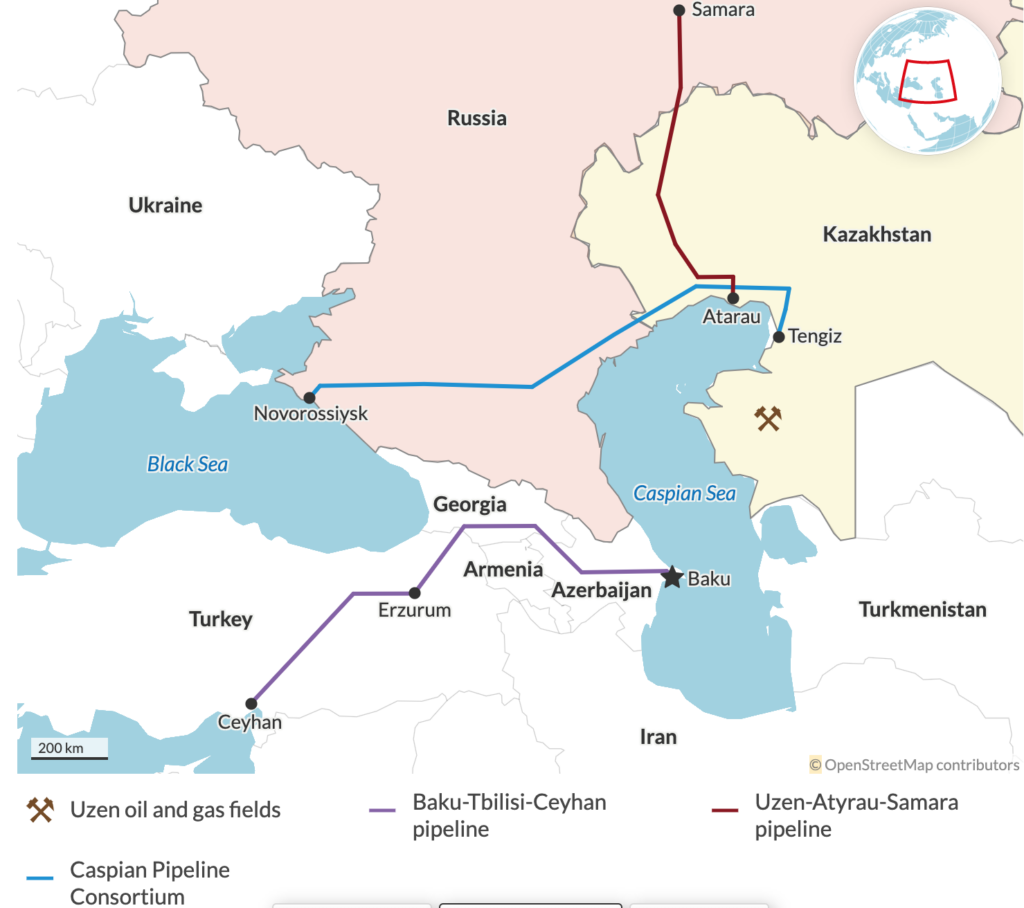 The second important export route is the Uzen-Atyrau-Samara (UAS) pipeline to Russia, with a capacity of 600,000 b/d. The third oil export pipeline is the Kazakhstan-China pipeline, with an export capacity of 400,000 b/d that also serves as a transit pipeline for Russian oil exports to China (not on the map). Additionally, Kazakhstan exports modest volumes across the Caspian Sea to Azerbaijan and the Baku-Tbilisi-Ceyhan (BTC) pipeline.
In total, nearly 94 percent of Kazakhstan's oil crosses Russia to reach export markets. 
Using Russian transport infrastructure is not subject to sanctions. Nevertheless, Kazakhstan has tried to protect itself from exposure to the sanctions by creating a clear distinction between its oil and Russia's. Traditionally, Kazakh oil was blended with Russian crudes before it was exported. In June 2022, Kazakhstan rebranded its crude as KEBCO (Kazakh Export Blend Crude Oil) to dissociate it from Russia's REBCO (Russian export blend crude oil), or Urals, to avoid exposure to Western sanctions. 
While tracing parts of any oil mix is difficult, that is not a uniquely Kazakh problem. There is no guarantee, for instance, that diesel coming to Europe from India has not been made using crude blended with Russian oil. The critical importance of the Kazakh rebranding is that the money paid by Europe for KEBCO supplies will hopefully go to a Kazakh entity, not a Russian firm bankrolling the Kremlin's war in Ukraine. 
A loud warning shot from Russia
There is, however, another vulnerability. Kazakh oil coming to Europe still exposes the EU to some Russian influence. In July 2022, a Russian court ordered the CPC to suspend operations for 30 days, citing concerns about handling oil spills. The decision came only two days after Kazakh President Kassym-Jomart Tokayev was quoted as saying that his country was ready to use its hydrocarbon potential to help stabilize the global and European markets. The Kremlin apparently took notice.
Relying on Russian transport infrastructure is Kazakhstan's "number-one problem," admitted the country's Energy Minister Almasadam Satkaliyev (he assumed office in April 2023). That is why the government is expanding the use of other existing export routes and building new ones, the new minister said.
The U.S. and the EU wasted no time voicing their support. In November 2022, Daniel Rosenblum, the U.S. ambassador to Kazakhstan, stated that American companies were exploring "reliable new ways to export Kazakh oil," adding that coordination between the EU, U.S. and Kazakhstan was necessary. Earlier, in March 2023, Minister Satkaliyev's predecessor said Kazakhstan was considering building an alternative to the CPC pipeline to take its crude to the Caspian Sea for export.
Last March, Kazakhstan sent two oil shipments to the Sangachal terminal South of Baku in Azerbaijan. From there, it transited to the BTC pipeline to reach the Ceyhan terminal on the Mediterranean and enter global markets.
Exporting Kazakh oil via Russia remains the most practical and economic option – if not for political risk factors. Building new export routes and expanding alternative ones will easily take five years but needs to be done. That is one reason why Mr. Nazarbayev's multivector policy continues to make sense for the country and its customers. 
The war in Ukraine, which puts countries under pressure to take sides, has made Kazakhstan's high-wire, multivector foreign policy even trickier. However, neither Russia nor Western powers have pressed Kazakhstan with ultimatums. As Latvian European Parliament Member Andris Ameriks explained, "[W]e see that it is a hard time for Kazakhstan too," adding that, with respect to diversifying oil export routes away from Russia, "We understand this is not a question of one day. Great investments and work have to be done and we as the EU have to support this since it is crucial for us as well." 
Along the same lines, following his meeting with President Tokayev in October 2022, EU Council President Charles Michel said, "Recent global events have brought the EU and Central Asia closer to each other. Our close cooperation is even more important now than ever."
Kazakhstan's oil is no panacea for the EU's dependence on Russian oil. However, it plays a vital role in Europe's quest for diversifying energy supplies, which is the only remedy to achieving greater security of supply. Meanwhile, Kazakhstan is keen on maintaining its image as a reliable supplier, particularly to the EU, its largest trade and investment partner. Oil also provides most of the country's export revenue. The security of demand is as important to Kazakhstan as the security of supply is to an importing region like the EU. 
Kazakhstan is the largest country in Central Asia and the ninth-largest in the world.
It is bordered on the northwest and north by Russia, on the east by China, and the south by Kyrgyzstan, Uzbekistan, the Aral Sea, and Turkmenistan; the Caspian Sea borders Kazakhstan to the southwest. 
The Druzhba (Friendship) pipeline is one of the world's longest and part of an extensive overland oil transport network. It began operation in 1964 and carries oil from Russia to Austria, Belarus, the Czech Republic, Germany, Hungary, Poland, Slovakia and Ukraine. 
Kazakhstan is the 13th-largest oil producer in the world but the second-largest oil producer after Russia among the former Soviet republics.
Kazakhstan holds some 1.7% of the world's known oil reserves. They are 12 in the world in size but the second-largest after Russia among the former Soviet Republics.
The Kashagan is the largest known oil field outside the Middle East and the fifth-largest in the world regarding reserves.
Ethnic Russians comprise some 16 percent of Kazakhstan's 19 million population.
Of Germany's trade with the countries of Central Asia, about 85% is with Kazakhstan.