In an interview to Hanna Ziady from CNN Business, Dr Carole Nakhle, CEO of Crystol Energy, comments on the potential implications to Nord Stream 2 pipeline following the poisoning of the Russian opposition figure and Germany's pressure over Kremlin for information about the poisoning.
According to Dr Nakhle, commercial interests may prove to be stronger than political interests on this particular front. It would also be politically difficult to sanction the pipeline, given that its backers have invested alongside Gazprom in an earlier pipeline project, Nord Stream, which is chaired by Germany's former chancellor Gerhard Schröder.
In such a scenario, Russia would be hurt if Europe targets its energy trade. The European Union is its most important market and Gazprom has acted to retain market share by offering price discounts and more flexible contracts to many of its customers. Gazprom's pipeline expansion plans, particularly Nord Stream 2, hinge upon such assumption of competitiveness as well as a strategic desire for more direct access to European core markets. However, other new pipelines into Europe, as well as the flexibility and competitive variable costs of LNG are likely to restrict the medium-term role of Russian gas.
EU Imports of Natural Gas by Origin, 2018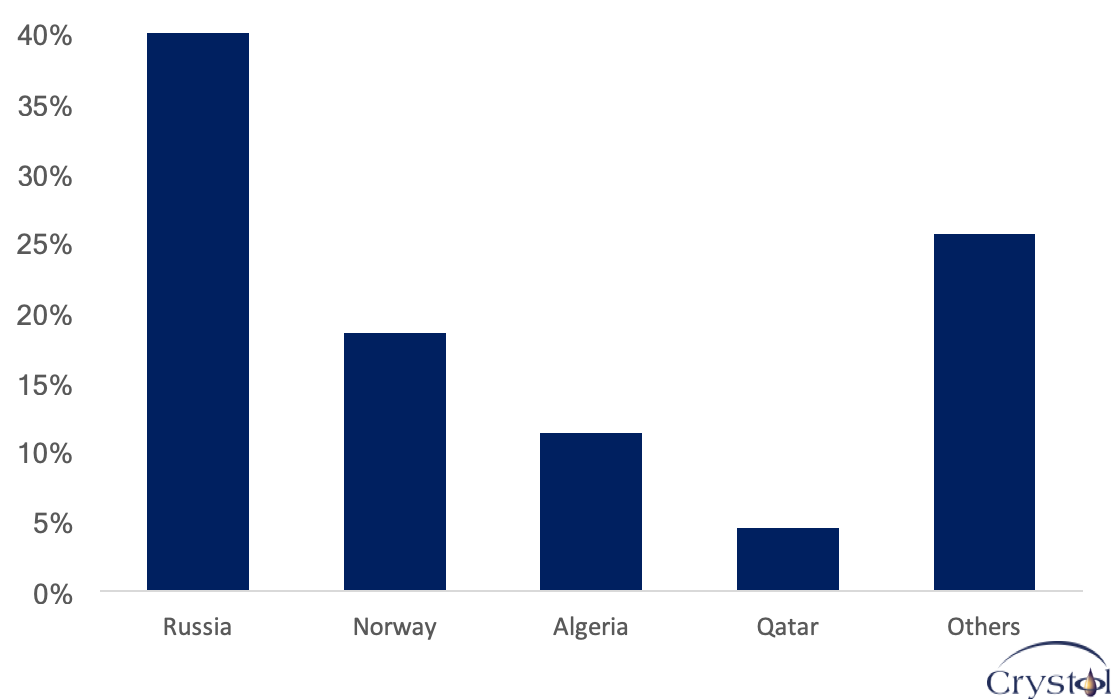 Dr Nakhle further argues that given the European Union's diversity of gas supply, energy security concerns are overblown, but it would be a dramatic move to cancel the project.
Related Analysis
"Eastern Mediterranean Gas Outlook Gets Murkier", Dr Carole Nakhle, Aug 2020
"Russia's energy diplomacy in the Middle East", Dr Carole Nakhle, Aug 2018