In this interview given to Rami Chouchani from Al Mashhad TV in Dubai, Dr Carole Nakhle, CEO of Crystol Energy, comments on the EU's climate policy.
Key takeaways:
Europe is the most progressive region in the world in terms of policies that address climate change.

However, the energy and electricity mixes within the individual EU countries vary widely. France largely relies on nuclear energy, while the coal is dominant in Poland.

Such a diversion creates clashes within the bloc, which can undermine the progression towards the implementation of the green agenda within the Union.

The European oil majors such as BP and Shell have pledged more ambitious climate targets than their American rivals such as Exxon Mobil and Chevron.
EU electricity mix by source, % (2021)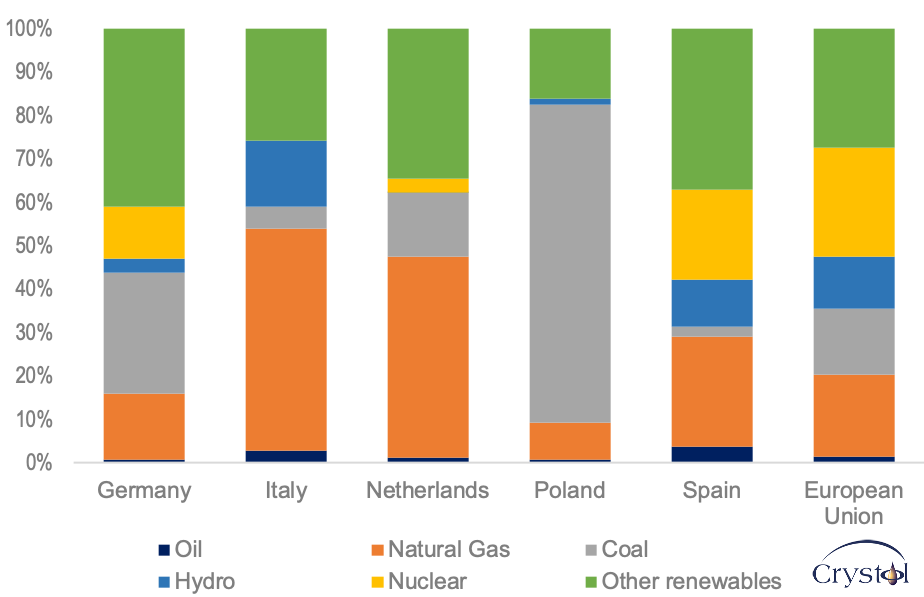 Related Analysis
"Averting a full-blown gas crisis in Europe", Dr Carole Nakhle, Feb 2023
"Germany scramble to revamp its energy policy", Dr Carole Nakhle, Oct 2022
"Thatcher's energy plan was derailed – now we are paying a gigantic price", Lord Howell, Sep 2022
"Energy policy confusion", Dr Carole Nakhle, Aug 2022
Related Comments
"Europe and its energy challenge", Dr Carole Nakhle, Jan 2023