Europe continues to battle high gas prices, though the panic that swept the continent in October eased in November. There is a well-known saying in commodity markets: the cure for high prices is high prices. This helps explain recent trends. High prices are gradually attracting additional supplies, while customers look for cheaper alternatives, including coal in power generation – regardless of climate change concerns. Over time, the longer high prices persist, the stronger the signal will be for more investment in gas production and other infrastructure. Of course, the most unpredictable factor remains the weather.
The crisis has shed light on the significant influence Russia still has on the European gas market, despite the European Union's deliberate attempts to weaken its sway over the years. Russia is still the biggest exporter of natural gas to Europe. The crisis, however, has brought competing sources of supply on the continent, a trend that will intensify in the coming years. In gas markets, much more than in oil markets, political and commercial interests are closely intertwined.
Gazprom supplies to the EU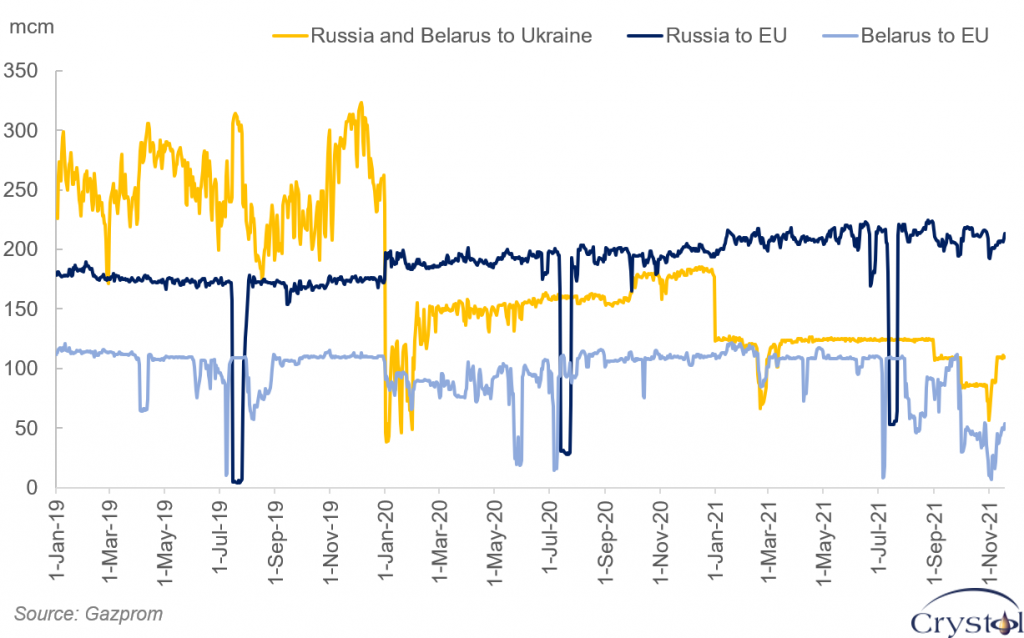 Perhaps the most reassuring aspect of the current situation is that Russia needs European markets as much as, or even more than, Europe needs Russian gas. Dependence cuts both ways: 38 percent of European pipeline gas is imported from Russia, but those exports to Europe constitute 85 percent of all Russian pipeline gas trade. The continent remains a key market for natural gas because of its overall level of consumption but even more so as a center for competition among different sources of supply.
Russia has blamed the crisis on market-based pricing, which the EU has been advocating for years. While it is true that such a mechanism is not risk-free, it does bring a flexibility that other pricing mechanisms, primarily Russia's favorite long-term oil- indexed contracts, do not have. After all, markets work and clear relatively quickly when they are allowed to do so.