Dr Carole Nakhle, Director of Access for Women in Energy and CEO of Crystol Energy, spoke on women leadership in a panel discussion organised by Clean Energy Business Council in partnership with Global Affairs Canada and Women in Renewable Energy on January 16, 2022 in Dubai, UAE. 
As part of the discussion, powerful leaders from different sectors in the clean energy field came together to share their own experiences and practices from the UAE and Canada. 
Some of the key points addressed by Dr Nakhle include:
The energy transition offers the opportunity for the energy industry to break away from the outdated image that has characterised the oil and gas industry and which is one that is a male dominated and poorly diverse sector.
Attracting young talent – male and female alike – to the energy industry is a multi-stakeholders' effort, starting with academic institutions and collaboration between academia and industry.
Setting quotas is still an open question and the results are inconclusive.
We need to widen the discussion and go beyond focusing solely on women. For instance, paternity leave is as important to supporting women pursuing a career in the industry as is the issue of maternity leave. We should also move away from panels that discuss female issues and that include only women; instead we need to adopt a more inclusive approach.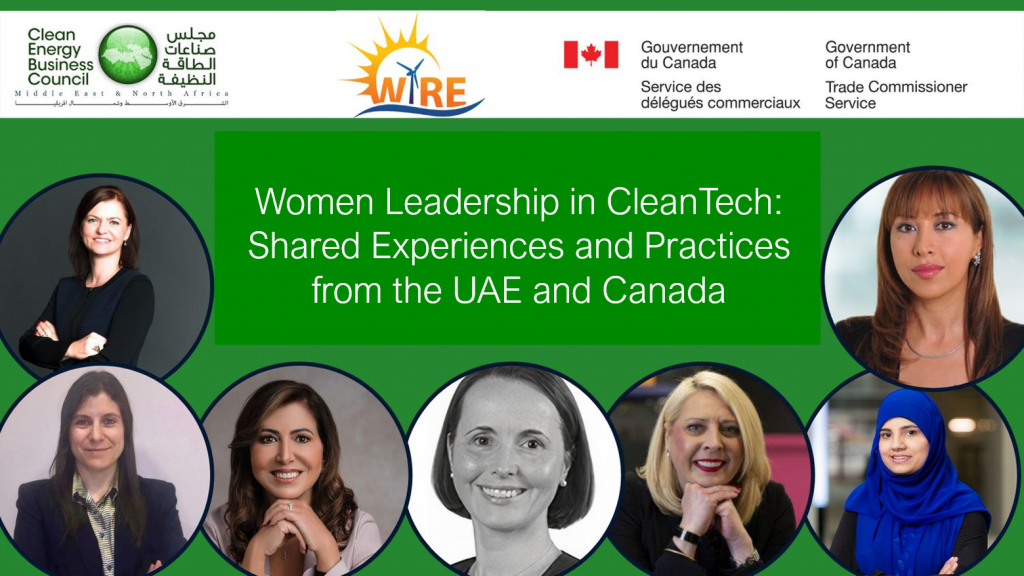 Dr Nakhle was joined by (from left to right):
Katarina Uherova Hasbani, Partner and Global Director of Strategy and Advisory, AESG and Founder of ENRUPT
Celia García-Baños López, Programme Officer, Policy, Gender and Socioeconomics, IRENA
Dina Storey, Director – Sustainability Operations – Sustainability-Real Estate at EXPO 2020 Dubai
Mhairi Main Garcia, Partner at Dentons and Board Member at CEBC
Joanna Osawe, President & CEO, Women in Renewable Energy (WiRE)
Aisha Bukhari, Cleantech Sector Leader, MaRS Discovery District and Advisory Board Member, Women in Renewable Energy (WiRE)