In this exclusive interview with Trusted Magazine, Dr Carole Nakhle, CEO of Crystol Energy and President of Access for Women in Energy, talks about her career path, the challenges she has faced in her life and career journeys and what she considers as a key success factor for a female entrepreneur / leader.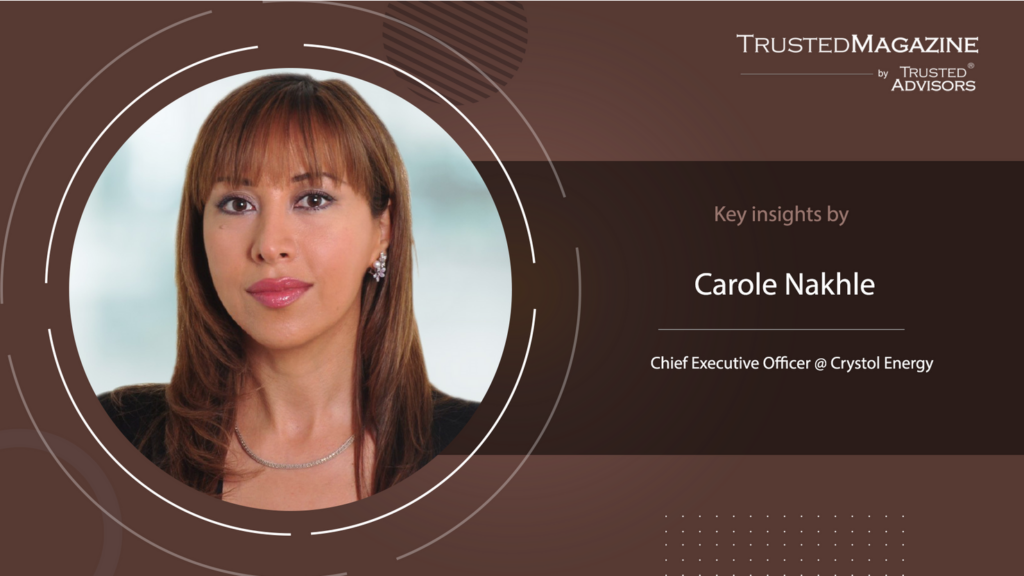 Trusted Magazine: How could you describe your career path in few words?
Dr Nakhle: I was born when the civil war was raging in Lebanon, and I grew up in war-torn Beirut where I managed to pursue my education until I completed my bachelors' degree (in Economics) – all under the French system. Then I wanted to explore a new venture, so I decided to go to the UK originally for one year to do a Masters' degree in Finance. Little did I know how decisive that year was going to be for me. Instead of returning to Lebanon, I enrolled in a PhD programme in Energy Economics, self-funded by part-time teaching which gave me the greater benefit of improving my English and communication skills – a benefit which I continue to recoup even today. I also used the time to interact closely not only with the academic community and presenting papers at conferences, but also with the industry – which gave me great insights into the practical aspects of the energy sector. As soon as I completed my studies, I worked in academia for a few years and at the same time I was acting as Special Parliamentary Advisor on Energy and the Middle East in the House of Lords, which gave me a truly unique exposure to the world of policy making and politics. After that, I joined major energy companies, worked with international organisations such as the IMF and the Commonwealth Secretariat. Each of these experiences was an eye opener and equipped me for my next big, exciting adventure. In 2012, I decided to start my own business, and from a simple sketch on my kitchen table in London, Crystol Energy was established as an advisory, research and training company that services the diverse group of stakeholders in the global energy industry. Ten years later, we have built an internationally recognised brand name and have won twice Best Independent Energy Consultancy Firm in the UK (2018 and 2021). 
Trusted Magazine: What was your most challenging experience and it has changed your mindset?
Dr Nakhle: At different stages of my life I faced different challenges, which shaped my mindset and personality. Perhaps on a personal level, the biggest challenge I faced was growing up during the war. You have no other choice but to learn how to survive. You learn how to 'deal' with the unknown, with the fact that at any time your life can be cut short and yet you don't allow it to stop you from dreaming. You appreciate the value of community, collaboration and support as neighbours come together to build shelters, share scarce food and water, and try to distract you from the petrifying sound of the bombs with a smile or funny grimace. You also develop some kind of risk assessment skills for instance when having to decide promptly when to go and where to go. But above all, you learn how precious life is.
Related Comments
"International Women's Day: Exclusive Interview with CEO of Crystol Energy, Dr Carole Nakhle", Dr Carole Nakhle, Mar 2021
"Diversity in Oil and Gas — How to Break the Glass Ceiling?", Dr Carole Nakhle, Mar 2021
"IWD 2021: The role of women in the oil and gas sector", Dr Carole Nakhle, Mar 2021
"International Women's Day 2021", Dr Carole Nakhle, Mar 2021
"From troubled Lebanon to become global energy icon", Dr Carole Nakhle, Jan 2021
"AccessWIE in Fashion", Dr Carole Nakhle, Jan 2021
"Discussion with Joseph McMonigle, Secretary General of the IEF", Dr Carole Nakhle, Nov 2020