A hydrogen rush is sweeping the world. In 2014, Japan adopted a road map to become a "hydrogen society." In its 2019 National Hydrogen Strategy, Australia outlined goals to become a major producer and exporter by 2030. The European Commission's 2020 economic recovery plan "NextGenerationEU" describes hydrogen as "an investment priority to boost economic growth and resilience, create local jobs and consolidate the EU's global leadership." And in the United States, where government interest in the resource goes back to the 1970s, in June 2021 Energy Secretary Jennifer Granholm launched the "Hydrogen Shot" policy framework, which seeks to reduce the cost of clean hydrogen by 80 percent in a decade.
Green hydrogen production, domestic consumption and export potential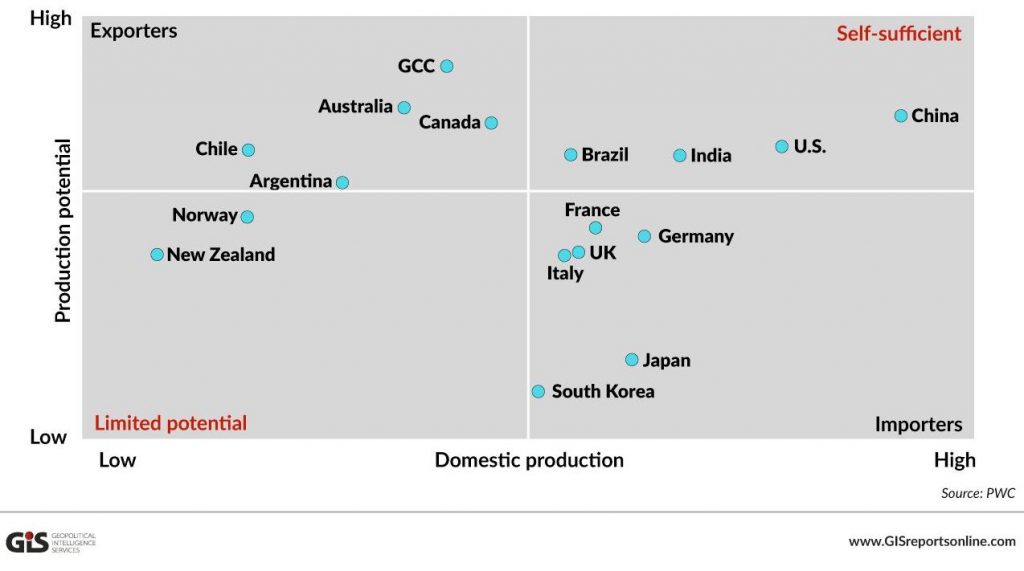 Middle Eastern oil and gas producers have also joined the hydrogen race. In August 2020, Saudi Arabia announced a $5 billion hydrogen plant – the world's largest clean hydrogen plant to date – as part of its futuristic high-tech city Neom, the brainchild of Crown Prince Mohammed bin Salman. In the United Arab Emirates, Dubai plans to launch the region's first solar-powered green hydrogen plant. Next door, the Abu Dhabi Police wants to convert some of its vehicle fleet to fuel cells in the coming years. Oman is also planning large-scale hydrogen projects.
But while the Middle East's recent enthusiasm for hydrogen is based on a sound rationale, unlike most countries elsewhere, the region does not intend to move away from oil and gas.
Hydrogen production costs in different parts of the world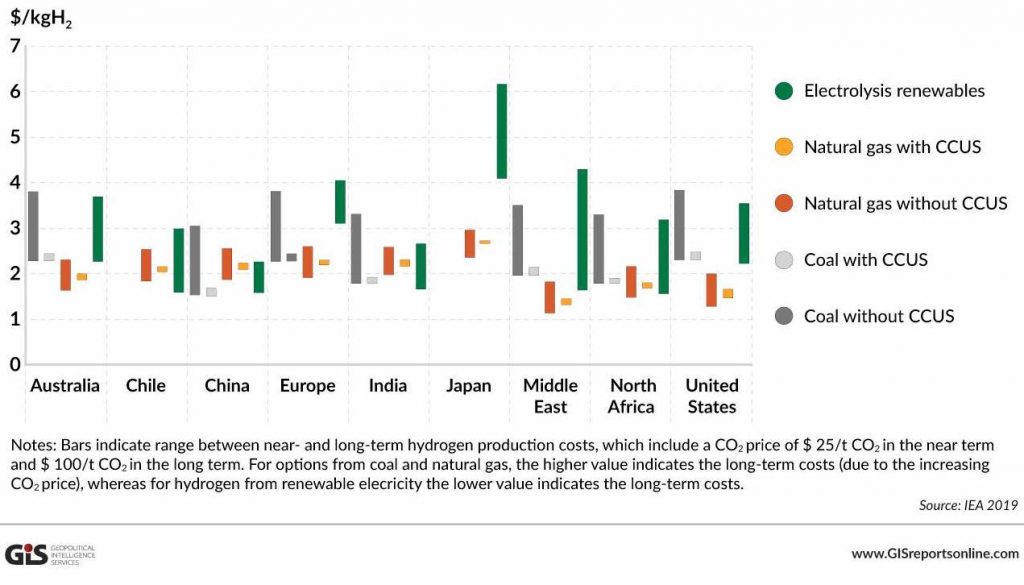 Related Analysis
"US energy policy: Clinging to old tracks", Dr Carole Nakhle, May 2021
"Clean Energy and Fossil Fuels in the Middle East: A virtuous cycle?", Dr Carole Nakhle, Jul 2020
"Oil in the energy transition age", Dr Carole Nakhle, May 2020
Related Comments
"International Oil Companies and Energy Transition", Dr Carole Nakhle, Jun 2021
"OPEC+ Output Decision and the Challenges of Energy Transition", Dr Carole Nakhle, Jun 2021
"The greening of oil companies", Dr Carole Nakhle, May 2021