Christof Rühl, member of the Advisory Board of Crystol Energy and a Senior Fellow at the Harvard Kennedy School and the Center on Global Energy Policy at Columbia University, discusses the latest global oil and economic developments in this weekly interview to the Gulf Intelligence.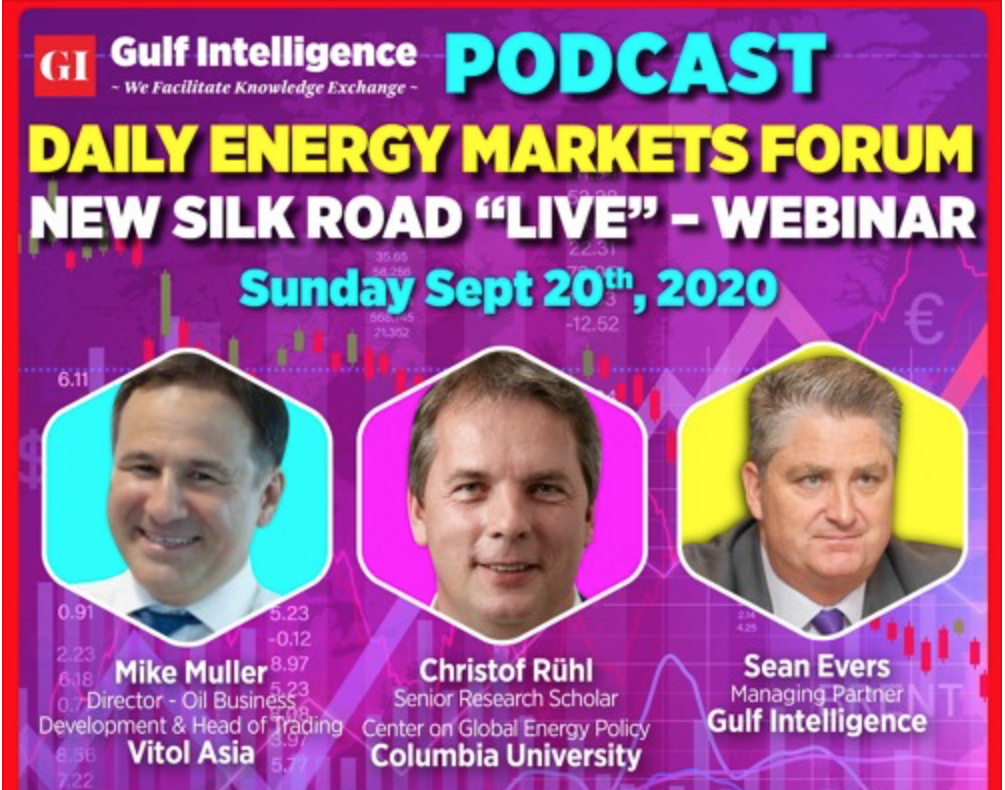 Christof comments on the recent announcement of Saudi Energy Minister warning traders that "whoever gambles on [the oil] market will be ouching like hell". He also discusses energy transition and the implication of the decision of oil majors shifting away from oil and gas and moving into renewables.
Christof further talks about the future of Nord Stream 2 pipeline and the possibility that the project gets cancelled following the poisoning of the Russian opposition figure, as well as the recent tensions between Greece and Turkey over hydrocarbon exploration in the East Mediterranean.
Has OPEC+ done enough to scare market actors away from shorting oil?
Christof is joined by Mike Muller, Director – Oil Business Development & Head of Trading at Vitol Asia. Sean Evers, Managing Partner at the Gulf Intelligence.
Related Analysis
"Oil Market Outlook: A Quandary of OPEC+", Dr Carole Nakhle, Aug 2020
"Clean Energy and Fossil Fuels in the Middle East: A Virtuous Cycle?", Dr Carole Nakhle, Jul 2020
"Oil in the energy transition age", Dr Carole Nakhle, Mar 2020
"Energy Transition? Not So Fast, One Expert Says", Lord Howell, Oct 2019
Related Comments
"Weekly commentary on global oil markets and economy", Dr Carole Nakhle, Sep 2020
"Nord Stream 2 pipeline's future thrown into doubt following Russian opposition figure's poisoning", Dr Carole Nakhle, Sep 2020
"Tensions running high between Greece and Turkey over the latter's drilling activities in East Mediterranean", Dr Carole Nakhle, Sep 2020